Botanical Hydrating Face Crème: Anti-Aging with Hyaluronic Acid, Rose, Aloe & Vitamin E 2oz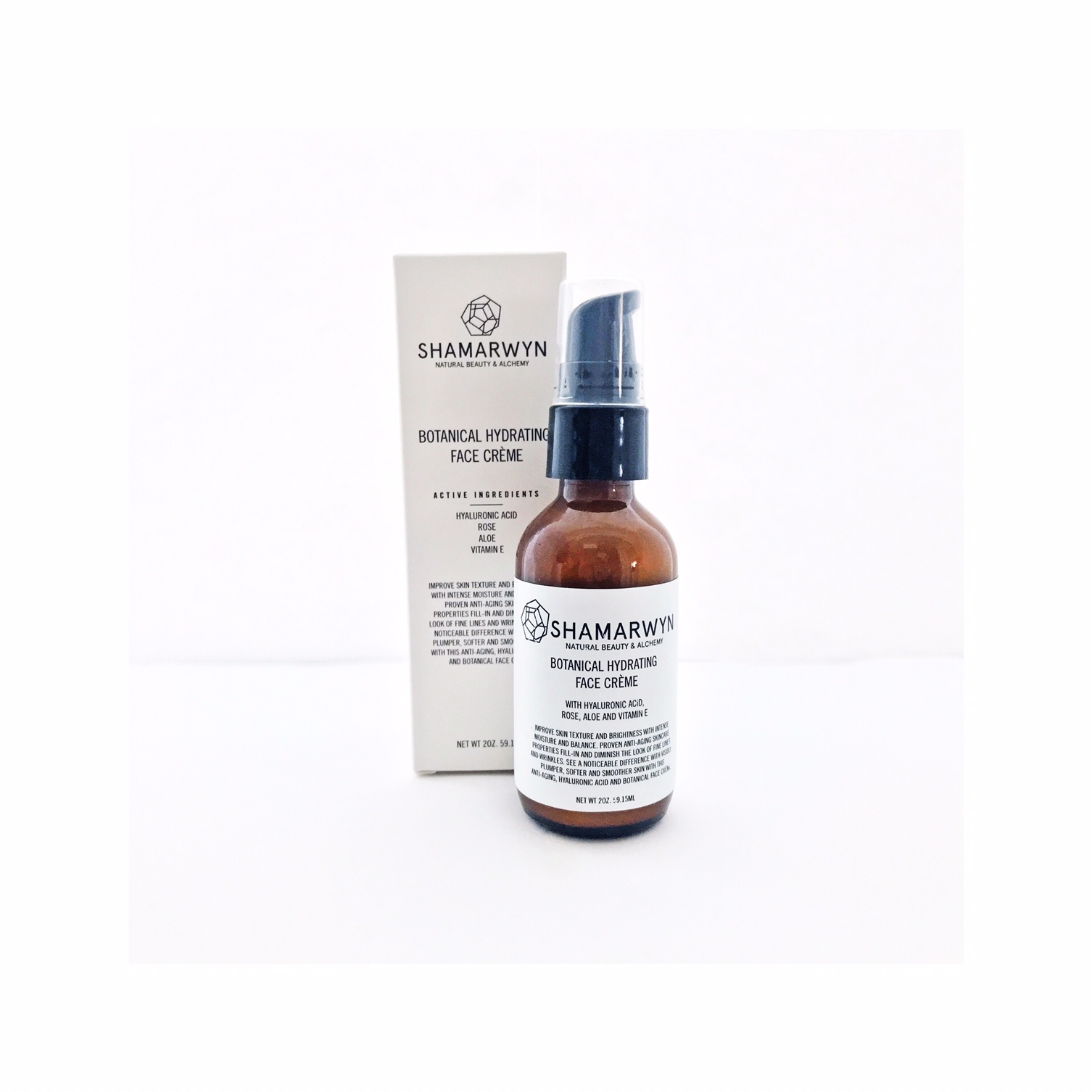 Botanical Hydrating Face Crème: Anti-Aging with Hyaluronic Acid, Rose, Aloe & Vitamin E 2oz
2oz.
Shamarwyn's Face Crème glides on silky smooth, absorbs quickly, plumps and tightens your skin and is excellent for all skin types. The Crème is non-oily and a little goes a long way. It contains Aloe Vera Gel, Hyaluronic Acid, Shea Butter, Mango Butter, Olive Oil, Almond Oil, Avocado Oil, Sunflower Oil, Grape Seed Oil, Aloe Leaf Juice, Vitamin E, Rose Essential Oil and Organic Rose Powder. Use morning and night. Excellent under make up!

* Improve skin texture and brightness with intense moisture and balance.

* Proven anti-aging skincare properties fill-in and diminish the look of fine lines and wrinkles.

* See a noticeable difference with visibly plumper, softer and smoother skin with this anti-aging Hyaluronic Acid and Botanical Face Crème
Ingredient Notes
Hyaluronic Acid: With aging and exposure to sunlight, pollution and many other factors, your skin starts loosing the natural hydrating substance known as hyaluronic acid. When you use Hyaluronic Acid Face Crème, the skin can absorb more moisture because the crème becomes an amazing lubricant. Apart from moisturizing your skin, hyaluronic acid acts as an amazing anti-aging agent. You will experience smooth, supple and tight skin that is protected from scars and wrinkles.

Rose oil stimulates the skin, while moisturizing and hydrating. It boosts all skin types and is particularly beneficial for dry, mature, inflamed and sensitive skin. It helps to reduce skin redness, fight inflammation, and its astringent properties act as a general skin tonic.

Aloe Vera contains vitamins C and E, both of which are known to be vital for healthy skin and also help to improve natural firmness, leaving your skin soft, supple and hydrated.

Vitamin E is a well-known antioxidant and its unique chemical structure enables it to effectively and safely quench free radicals known to age and damage your skin.
✔ Formulated from plant ingredients
✔ No synthetic fragrance or mineral oil products
✔ No animal products and no animal testing
✔ No parabens or phthalates
Directions
Apply 1-2 times daily to clean skin. Gently massage and pat gently to blend with fingertip into facial skin.
Ingredients
Aloe (Barbadensis) Vera Gel, Sodium Hyaluronate (Hyaluronic Acid), Shea Butter (Butyrosperum Parkii), Mango Butter (Mangifera Indica), Olive Oil (Olea Europaea), Almond Oil (Prunus Dulcis), Avocado Oil (Persea Gratissima), Sunflower Seed Oil (Helianthus Annuus), Grape Seed Oil (Vitis Vinifera), Capric/Caprilic Triglycerides (from Coconut), Vegetable Glycerin, Organic Roses Pink Powder (Rose Centifolia), Stearic Acid (Vegetable), Glyceryl Stearate (Vegetable), Cetyl Alcohol (Vegetable), Aloe (Barbadensis) Leaf Juice, Tocopherol (Vitamin E), Cyclomethicone, Beet (Beta Vulgaris), Phenoxyethanol, Ethylhexaglygerin (Natural Preservative), Essential Oil of Rose Blend (Rosa Damascena).