Rosemary Mint Shampoo & Volumizing Conditioner Set, Sulfate Free, Natural-Organic with Essential Oils, Color Safe 8oz ea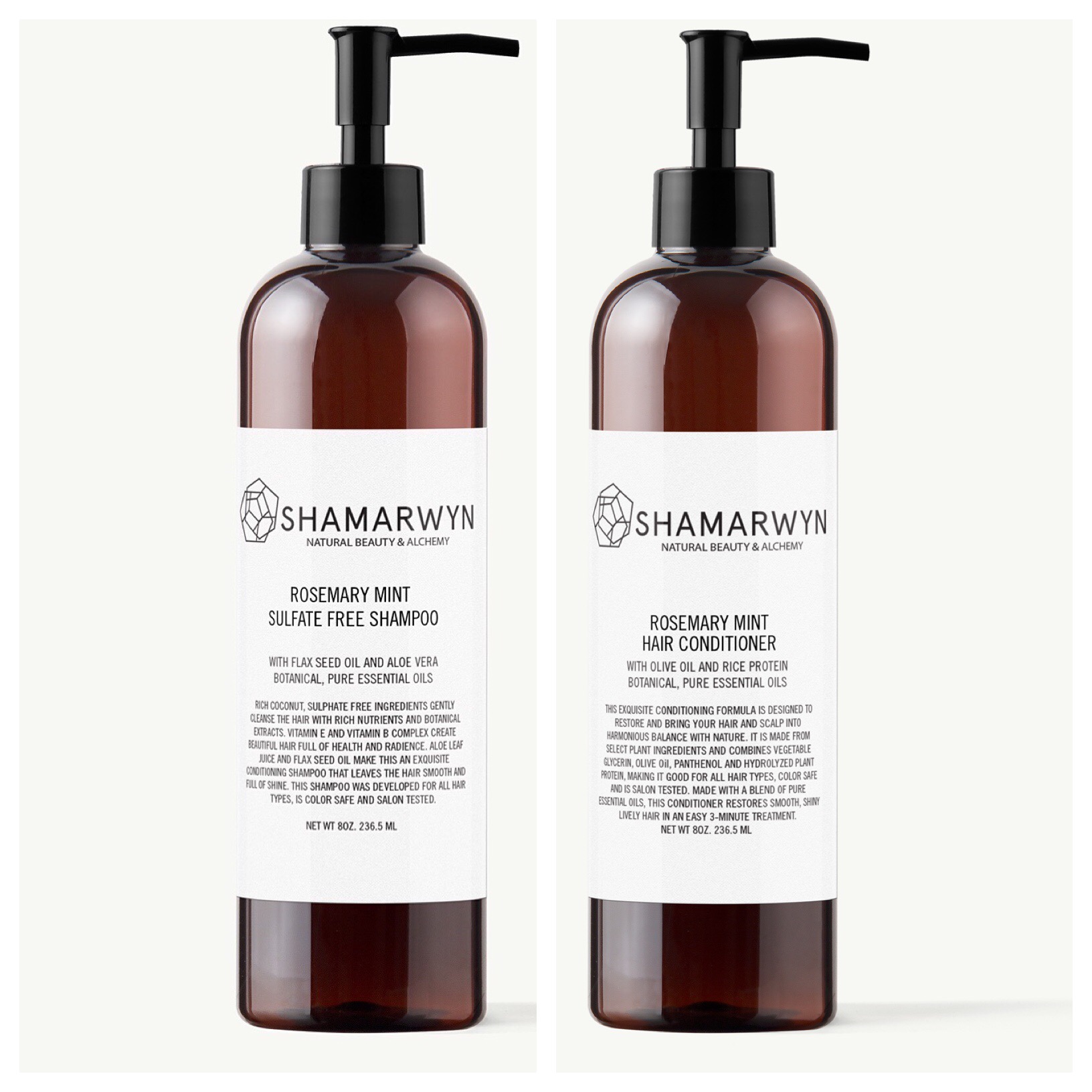 Rosemary Mint Shampoo & Volumizing Conditioner Set, Sulfate Free, Natural-Organic with Essential Oils, Color Safe 8oz ea
Shampoo: Rich coconut, sulfate-free ingredients gently cleanse the hair with rich nutrients and Botanical Extracts. Vitamin E and Vitamin B Complex create beautiful hair full of health and radiance. Aloe Leaf Juice and Flax Seed Oil make this an exquisite conditioning shampoo that leaves your hair smooth and full of shine. This shampoo was developed for all hair types, is color safe and salon tested.
Conditioner: This exquisite conditioning formula is designed to restore and bring your hair and scalp into harmonious balance with nature. It is made from select plant ingredients and combines vegetable glycerin, olive oil, panthenol and hydrolyzed rice protein making it good for all hair types, safe for color treated hair and is salon tested. Made with a special blend of pure essential oils, this conditioner restores smooth, shiny, lively hair in an easy 3-minute treatment.
Made with a special blend of Rosemary & Mint Pure Essential Oils. Rosemary Essential Oil imported from Spain, is antiseptic and purifying. It works as a powerful antioxidant to help protect the hair and scalp against free radical damage. Rosemary combats dryness to leave your hair soft and shiny. Spearmint and Peppermint Pure Essential Oils are combined in this aromatic blend to invigorate and refresh. They help in relieving dry, itchy and scaly scalp.
*Formulated from plant ingredients
*No synthetic fragrance or mineral oil products
*No animal products and no animal testing
*No parabens or phthalates
*No SLS
Directions
Shampoo once or twice. Gentle enough to use daily
Shampoo, towel dry, apply conditioner and leave in for 3 minutes. Rinse and enjoy shiny, luxurious hair!
Ingredients
Shampoo: Water (Aqua), Sodium Methyl-2 Sulfolaurate (Derived from Coconut & Palm Oil Fatty Acids), Disodium 2-Sulpholaurate (Derived from Coconut Fatty Acids), Cetyl Betaine, Lauryl Lactyl Lactate (Derived from Coconut Oil), Aloe Barbadensis Leaf Juice, Sodium Lauroyl Lactylate (from Coconut Oil), Linium Usitatissium (Flax Seed) Extract, Panthenol, Glycol Distearate (SoyBean Oil), Guar Hydroproxypropyl Trimonium Chloride (Guar Gum), Phenoxyethanol, Ethylhexylglycerin (Natural Preservative), Pure Essential Oil of Whole Wild Rosemary from Spain, Peppermint (Pulegone Free), Spearmint, Cedarwood, Juniper Berry, Clary Sage, Bay Laurel and Lemon Myrtle
Conditioner: Aqua (Water), Vegetable Glycerin, Olive Oil (Olea Europaea), Grape Seed Oil, Sorbitan Laurate (Vegetable), Cetyl Alcohol (from Palm Oil), Behentrimonium Chloride (from Coza Oil), Cocamiopropyl Betaine (from Coconut Oil), Panthenol, Hydrolyzed Rice Protein, Citric Acid, Lactic Acid (from Corn), Ascorbic Acid, Potassium Sorbate (Natural Preservative), Pure Essential Oil of Whole Wild Rosemary from Spain, Peppermint, Spearmint, Cedarwood, Juniper Berry, Clary Sage, Bay Laurel and Lemon Myrtle